"David McCourt exemplifies the entrepreneurial spirit that has characterised Ireland and the best of her diaspora."
Paul Haran
Chairman of UCD Michael Smurfit Graduate Business School
Over the past 30 years, founder and chairman of Granahan McCourt Capital, David C. McCourt, has been widely known as a transformational force in the technology, media and telecom industries. He has founded or bought 20 companies in nine countries, receiving prestigious awards and accolades along the way.
The Economist described him as having "impeccable credentials as a telecom revolutionary."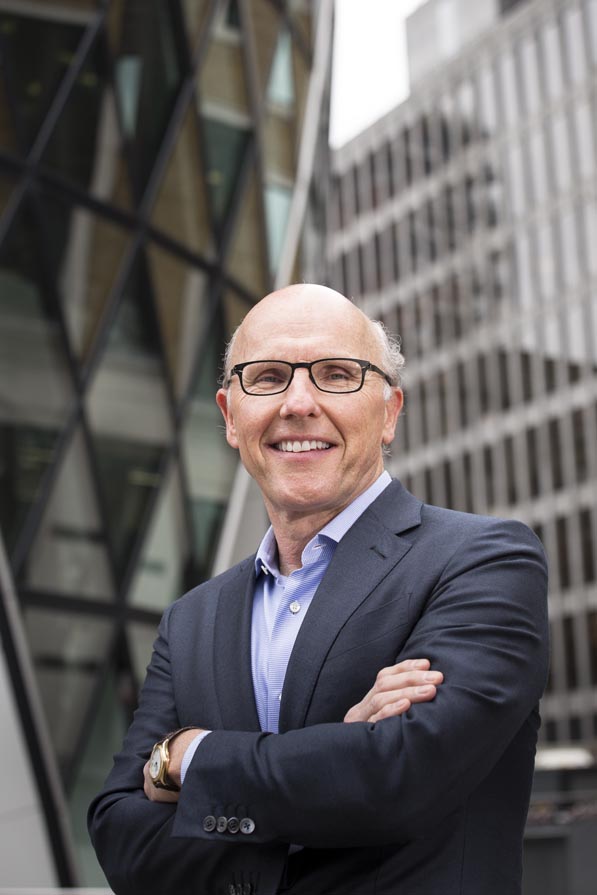 Awards
---
US President Ronald Reagan presented McCourt with the first-ever award from the White House recognising extraordinary accomplishments by private sector businesses
McCourt was selected as "Entrepreneur of the Year" by Ernst & Young LLP
McCourt was named "Top Entrepreneur" by the Harvard Business School Club of New York, he became the inaugural "Economist in Residence" at the University of Southern California (USC) Annenberg School for Communication and Journalism and was named as the inaugural Executive in Residence for Entrepreneurial Economics and Innovation by Georgetown University
The American-Irish Historical Society presented McCourt with its gold medal in 2004, an award previously bestowed on Ronald Reagan, Mary Higgins Clark and Bono
David C. McCourt is a member of the executive council for the American Irish Historical Society
In 2018, McCourt was awarded The Science Foundation Ireland annual medal for outstanding contribution to technology and innovation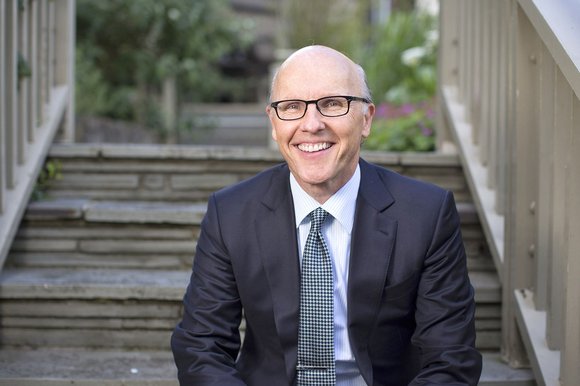 David's Life
---
GRADUATED FROM GEORGETOWN UNIVERSITY

Raised in Watertown, Massachusetts, a suburb of Boston, McCourt graduated from Georgetown University in 1979. He ventured into the telecoms industry in 1982, creating his first company, McCourt Cable Systems, which quickly became the largest privately-owned designer and builder of cable systems in the United States. With McCourt at its helm, the company deployed breakthrough methods of laying cable systems, which would later be adopted as industry standards.

Founded Discovery TV

Starting to build a reputation He would soon turns his sights to the Caribbean nation of Grenada, where he founded Discovery TV, partnering with the Grenadian government to form a highly-successful television station that would later be sold to the Grenadian government. Delivering content to underserved areas of the world would later become a recurring theme in McCourt's career.

Corporate Communications Network

By the late 1980s, McCourt had gained a reputation as a telecoms visionary with the creation of Corporate Communications Network, the first competitive telephone company in the United States. The company would later be merged with MFS Communications and sold to WorldCom for $14.3 billion.

McCourt/Kiewit International

Witnessing the surge of new network construction in the United States over the past decade, McCourt's next venture would see him partner with world-renowned engineering and construction firm Peter Kiewit Sons, Inc. From this partnership emerged McCourt/Kiewit International, based in London, which quickly became the largest designer and builder of residential cable television and telephone networks in Europe.

Chairman and CEO of C-TEC

By the mid-1990s, McCourt found himself sitting as Chairman and CEO of C-TEC, a diversified telecommunications company based in Pennsylvania, and in the process became one of the youngest CEO's of a publically traded company aged just 35. After recapitalising the company, which included the monetization of several non-strategic subsidiaries, McCourt engineered a tax-free split of the company, which saw it divided into four publically traded entities: RCN Corporation; Cable Michigan, Inc.; Mercom, Inc.; and Commonwealth Telephone Enterprises, Inc. Combined, the annualized returns of these companies would reach three times the returns of the S&P 500 over the same time period.

McCourt Entertainment

Long after selling Discovery TV, McCourt would return to film and television production. During the 1990s and 2000s, he served as executive producer for several highly-successful series. His ten-part documentary series What's Going On?, saw McCourt recognised for his citizen diplomacy, working in partnership with the United Nations to examine the global impact of conflict on children around the world. The series attracted the support and participation of some of Hollywood's top talent, including Michael Douglas, Angelina Jolie and Meg Ryan. McCourt also worked as executive producer on Spike Lee's Miracle Boys, a six-part mini-series on Nickelodeon, as well as the long-running PBS Kids educational series Reading Rainbow, which would earn McCourt a Daytime Emmy in 2005.
Today
Building on this strong heritage in TMT, Granahan McCourt's current portfolio is centred around the core focuses of connectivity, technology and content, investing in opportunities to advance these pillars in underserved regions of the world, where there is both the greatest need and scope for industry disruption. GMC continues to cultivate its international network of public and private sector partners, working with governments around the world on a number of active Public Private Partnerships.
Granahan McCourt's latest ventures have seen connectivity addressed in three major projects, across the Middle East and Europe.
Breakthrough Digital TV
In June 2016, Granahan McCourt launched ALTV.com, a new free streaming service that will bring more exciting and relevant video content to underserved areas of the world.
ALTV has now commenced in the Middle East and North Africa, with expansions soon planned for South America and Sub-Saharan Africa. Launching in these markets, ALTV is developing a wide-ranging network of creative talents in each region, filling a major gap in these markets by giving millions of younger viewers access to local, high-quality content that reflects their culture, interests and aspirations.
ALTV.com is targeting to become the number one channel for a growing audience that is increasingly shunning traditional television channels in favour of more relevant, locally-made content designed to be enjoyed via smartphones and tablets as their access to enhanced connectivity extends. ALTV is solving the growing global challenge being faced in areas of the world that are currently underserved – connecting creative content developers to engaged audiences.
By collaborating with the best and most creative presenters and producers in each region, nurturing talent through training, supplying facilities and responding to what consumers want, ALTV understands the dramatic changes in media consumption that are taking place and offers younger, tech-savvy audiences more relevant, captivating content that reflects how they live.
David is also the founder and a lead producer for McCourt Entertainment, an American multi-media production company founded by telecommunications innovator and multi-Emmy Award winning producer David C. McCourt. With offices in Beverly Hills, Washington DC, Dublin and Dubai, McCourt Entertainment focuses on original content that both inspires and encourages social change, with compelling storytelling and quality production value.
Pioneering Saudi Arabia's Vision 2030 Reform Plans
In May 2016, Granahan McCourt created a landmark joint venture in Saudi Arabia to manufacture and market the country's first high-throughput satellite terminals.
Through its holdings in satellite firm Skyware Technologies, Granahan McCourt pioneered the partnership with Saudi Arabia based company Crescent Groupe before signing a joint venture agreement with the King Abdulaziz City for Science and Technology (KACST) and TAQNIA Space, a Saudi company specialising in commercialising KACST technologies and supporting sustainable growth of the GDP, diversifying the economy and creating high quality jobs.
The joint venture importantly became the first example of a Public Private Partnership by the Kingdom of Saudi Arabia following the strategic goals recently outlined by deputy crown prince Mohammed bin Salman's Vision 2030 reform plan.
Connecting Rural Ireland
In Ireland, Granahan McCourt has been highly active in expanding access to broadband through its enet subsidiary which operates next-generation, open-access telecoms infrastructure in partnership with the Irish Government.
Under Granahan McCourt's ownership, enet has expanded its networks and operations significantly and now connects 900,000 citizens through more than 60 service providers.
In July 2016, it was also announced that a consortium bid headed by Granahan McCourt and enet was successfully shortlisted by the Irish government in its current and ongoing tender process to develop Ireland's revolutionary National Broadband Plan.
The National Broadband Plan represents a major landmark in the development of telecommunications in Ireland that aims to radically transform the country's broadband landscape. The project will ensure that all homes and businesses have access to high-speed broadband regardless of location, and will be accomplished through a combination of commercial and state-led investment.